We are promoting and recommending this range of products from Adam Night, one of the UK's leading stage hypnotists with over 25 years experience ( www.adamnight.co.uk ) .
To our knowledge he has achieved some really good results and he has been trained by both Paul McKenna and Richard Bandler to name but two.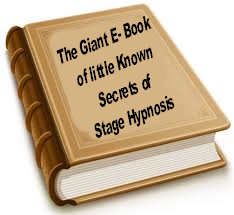 I am so pleased to be able to exclusively offer you this E-Book by Alexander Duval, 'The giant e book of little known secrets of stage hypnosis'.  This is outstandingly the clearest, soundest, and most practical e-book on stage hypnosis. It is written in straightforward, readily understandable style. It is admirably free from the irrelevant, superficial, and dubious material, which so often pads out e-books on this subject and most other books written for the Internet and electronic sale.